Infrastructure Description
PLANAQUA is a cutting-edge experimental infrastructure located at the CEREEP Research Centre to explore the effects of human disturbances on aquatic biodiversity, community structure and ecosystem functioning of shallow lakes ecosystems. PLANAQUA is jointly supported by Ecole Normale Supérieure (ENS) and National Centre of Scientific Research (CNRS). PLANAQUA combines several facilities. Sixteen artificial ponds (750 m3), with a vegetated, silty, littoral zone, a central pelagic zone, and a sandy benthic area, are equipped with automated sensors to measure vertical profiles of t°C, O2, pH, chl a and PAR. Two larger ponds (4000 m3) serve as storage (for species and water) or drainage reservoirs. In the first pond, a floating pontoon can receive suspended enclosures (typically, 64 enclosures of 6 m3). The experimental ponds are complemented by >80 outdoor mesocosms of various sizes (1-15 m3) and shapes. Finally, 12 mesocosms (15 m3 each) have wave generators to control water turbulence.
Aquatic communities (plankton, benthos, macrophytes of marine or freshwater ecosystems) can also be studied in the climatic chambers of the Ecotron IleDeFrance, under highly controlled environmental conditions (t°C, light, nutrients, gas). Dedicated sensors enable monitoring of gas exchange (O2 and CO2) in the experimental systems. Microcosms (from one liter to several hundreds of liters) can be used.
Available instruments include a flow cytometer, spectrophotometer, automatic titrator, segmented flow analyser, growth cabinets, a laminar flow hood, fume hoods, -20°C and -80°C freezers, an autoclave, ovens, a freeze-drier, culture facilities for algae, microscopes, liquid nitrogen, distilled and ultrapure water, samplers, fixed sensors, multi-parameter and fluorometric probes, small boats and other gear.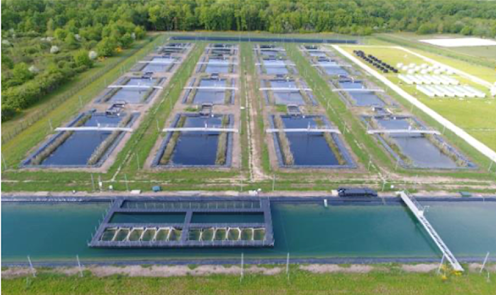 PLANAQUA with 16 experimental ponds, a floating pontoon and various mesocosms. Photo credit: CEREEP
---
Facility Description
outdoor/indoor- pelagic/littoral – freshwater/marine
1) The Experimental Lake Platform consists of 16 artificial lakes (30 m x 15 m x 3 m deep, 750 m3 each) designed to simulate the spatial heterogeneity and biological complexity of small, continental freshwater bodies (Figure 1). These large experimental systems are spatially structured, with shallow littoral areas, a central pelagic zone and a central benthic area, and may be interconnected along 4 rows of 4 lakes each through 10 m long dispersal channels. In addition, each lake is equipped since June 2016 with automated sensors and data loggers providing detailed and real time information on physical and biological conditions along the water column from the central pelagic zone. The two other artificial reservoirs (126 m x 15 m x 3 m deep, 4000 m3) are a stocking lake used to homogenise water before distribution to experimental lakes and a drainage lake that can collect and purify used water at the end of experiments.
2) Standard outdoor freshwater mesocosms, from 350 litres to 12 m3, with high degree of replication are available (currently, 142 tanks with a minimum of 12 replicates per size group).
3) Standard floating mesocosms (up to 2.5 m deep and 5.6 m3) can be installed on a permanent floating structure of the stocking lake to run mesocosm experiments requesting a deeper and naturally mixed water column (Figure 3).
4) The new platform of thermoregulated mesocosms inaugurated in June 2021 is now available for TA 2022. 16 stainless steel mesocosms of 1m3 are set outdoor in two lines of 8 mesocosms (Figure 4). Four experimental temperatures can be precisely controlled, each one on four replicated mesocosms. This allows factorial experiments aiming to understand the effects of global warming and other environmental parameters on community structure and functioning.
5) Aquatic microcosms are small containers dedicated to aquatic microbial ecosystems studies from single populations to communities of bacteria, microalgae and other planktonic organisms. Currently, we have in our dedicated laboratories 12 chemostats (single glass vessels) for culturing bacteria and phytoplankton in sterile conditions and 4 double-system chemostats (paired system made out of two connected glass vessels) dedicated to the study of phyto- and zooplankton interactions and dynamics in spatially structured ecosystems (meta-ecosystems) (Figure 5). All the systems can be used to run continuous cultures in a light- and temperature-controlled environment. Moreover, we have 36 custom-made open-top aquatic microcosms dedicated to experimentation on aquatic ecosystems in the Ecolab environmental chambers. Temperature, irradiance and nutrients can be precisely controlled inside each microcosm, and atmospheric conditions (CO2 and O2) are precisely regulated.