Infrastructure Description
The Solbergstrand Experimental Facility (SEF) of the Norwegian Institute for Water Research (NIVA) in Oslo comprises two complementary mesocosm facilities, a recently upgraded hard-bottom marine mesocosm system and a freshwater flume system:
The coastal hard-bottom mesocoms are 12 concrete basins of 13 m3 receiving permanent seawater supply from the Oslofjord. The facility offers unique opportunities to assess community and ecosystem responses to various stressors on European intertidal and shallow subtidal rocky shores. Numerous experiments have been completed over the past 20 years, involving macroalgal and macrofaunal species established in the mesocosms. In addition to manipulating plant and animal diversity of shallow rocky marine habitats, environmental factors such as wave energy, tidal regime, water turbulence, nutrient supply, and acidification by CO2 can be experimentally controlled and altered.

The freshwater facility consists of 16 outdoor stainless steel flumes (10m long, 0.5m wide, up to 0.5m deep). Discharge can be increased to up to 3 l/s per flume to mimic headwater streams. Flumes are typically filled with natural substratum, stocked with biota before starting experiments, and can be run in circulation or flow-through mode. Long-term experiments lasting months or years with natural colonisation from a stream next to the facility are also possible. Stream water distributed to the flumes through header tanks, ground water or both can be used as water sources. Controlled parameters include discharge, flow velocity and temperature. A unique feature in running water experimental set-ups at the scale of the flumes is individual heating and cooling of the water in each flume. Substratum composition, water chemistry and biological components can be controlled to elucidate responses of stream communities and ecosystem processes to climate change and other environmental stressors. The facility includes pumps, thermostats and a groundwater dwelling in addition to temperature loggers, light meters, velocity meters, etc.
Laboratories associated with the facilities on site are equipped for water-chemical, microscopic and other routine analyses. Additional chemical analyses and other measurements can be made at the main NIVA lab in Oslo 60 km north of the SEF.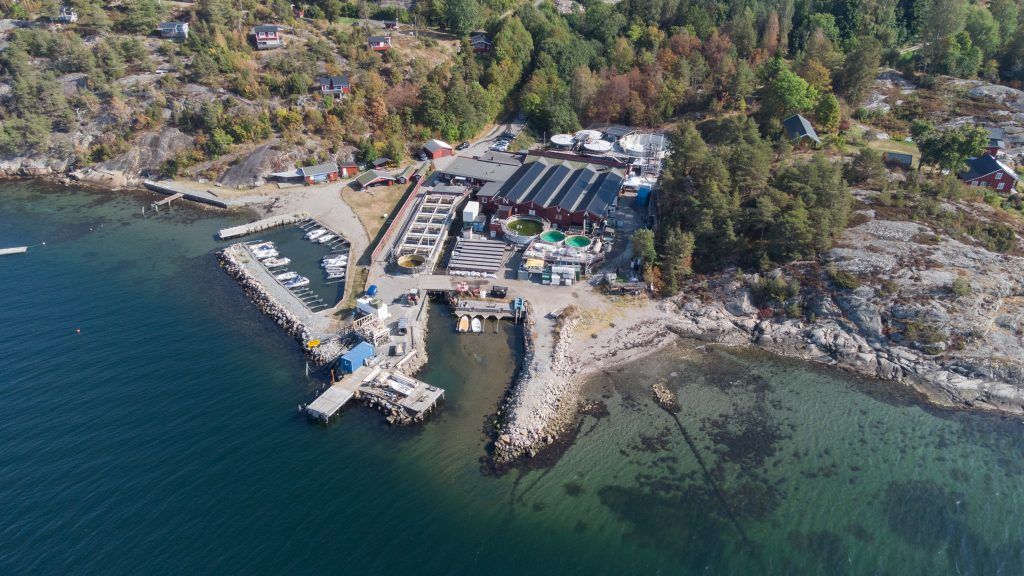 NIVA's research station Solbergstrand. Photo: Anders Gjørwad Hagen/NIVA
---
Facility Description
Coastal mesocosms: Outdoor, 12 hard bottom mesocosms, 13 m3 ambient 1 m depth sea water flow through, benthic communities from 0-1.5 m depth, ca 40 species of benthic algae, up to 90 species of macrofauna.
23 fibreglass and concrete seawater pools with volumes ranging from 26 to 550 m3, a number of smaller testing facilities on land, and the seabed outside the station to manipulate and control marine ecosystems.
Facilities at Solbergstrand cover:
– hard-bottom seashores
– brackish water systems
– seaweed and kelp communities
– soft-bottom sediments from clean and polluted areas
– pelagic communities from the upper water depths
– a larger system to simulate mixing zones in rivers
– testing of water treatment systems
Solbergstand Flumes: Outdoor, 16 stainless steel flumes: 10 m long, 0.5 m wide and with a maximum depth of 0.5 m (depth can be increased by Plexiglas panels). Discharge can be up to 3 L/s per flume with the current set-up so the facility mimics headwater streams. Flumes are seeded with both substrate and biota prior to experimentation depending on research question. However, longer experiments (months to years), and with natural colonization from a stream that runs next to them, is possible. Each flume can be individually re-circulated or have flow through of stream water. Water sources comprise both of ground water (limited amounts and not enough for continuous flow through) and stream water that are distributed to the flumes through header tanks.